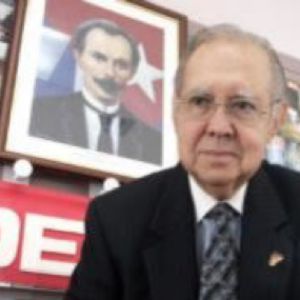 Lorenzo Ignacio De Toro was born in Havana on July 31, 1930. He studied at Colegio de Belén. His father was a Spaniard who carried forward a business of opticians and Lorenzo followed his father's professional footsteps. He left Cuba for Miami in January 1962 with his wife and two daughters. In Miami he managed to establish the Versailles De Toro optics again, with several branches in Miami-Dade County and Puerto Rico.
He was one of the collaborators of Father Agustín Román in the work for the building of the Hermita de la Caridad, creating the Christian Commitment Foundation and then the creation of the IDEAL magazine in 1971, which has since served as a free space and forum for Cubans in the diaspora and more recently, for the voices of the Cubans of Intramurals.
In September 2012, Pope Benedict XVI awarded De Toro the Benemerenti Medal for his role in the front of IDEAL. In November 2016, Directorio Democratico Cubano gave him the recognition an "Exemplary Life" for its cultural, educational, and patriotic work through "Ideal." A street in the city bears his name as a recognition of community work. In April 2018, the Intituto de la Memoria Historica Cubana awarded him the "Ciudadano de America Jose Marti."
Lorenzo De Toro passed away on June 1, 2018, in Miami.